What do you put on your pizza? Perhaps you stick to the classics pepperoni and mozzarella combo, or maybe you prefer to load up on veggies. Either way, your pie will probably come across as distinctly North American. It begs the question: what do pizzas look like in countries down south, or far to the east? That's what we're answering today. Join us as we explore some unorthodox pies from across the globe.
RELATED: Mongolian Food You Have to Try Before You Die >>>
Here's what pizza looks like around the world
Russia
In North America, sardines on pizza is something of an acquired taste. It's a different story in Russia. "Mockba" is among the most popular pizza styles in the country. Toppings of this pie include the aforementioned fish, as well as mackerel, tuna, salmon, and onion. Altogether, it makes for a potent mouthful. Of course, mockba isn't the only unusual combo to be found. To an outside observer, a pizza piled high with caviar and beef filets might come across as unnecessarily bougie. The average Russian, meanwhile, would sooner smack their lips than bat an eye.
Japan
There are two sides to Japan's pizza scene. On one hand, there is high demand for artisanal Italian pizzas – a style popularized by celebrity chef Salvatore Shigeta. On the other, local pizza chains tend to stray from tradition in favor of quintessentially Japanese ingredients. Nowhere else in the world will you find squid or eel as a focal ingredient, or pies with corn and avocado nestled atop mayo-based sauce. Not to mention it's common for pizzas to be doused with a healthy dose of Tabasco sauce. 
Sweden
The subject of pineapple on pizza has long been a hot-button issue. If you ask us, there's a far stranger choice of fruit topping. Believe it or not, Sweden loves to top its pizzas with sliced bananas. Stranger still, the topping is found on a variety of pies, including Hawaiian, Indian, and Milano variants. In terms of popularity, though, these all pale in comparison to the pairing of banana and curry. Across all the pizza kiosks in Sweden, this bizarre combo stands tall above the competition.
Costa Rica
Sweden isn't the only country that tops its pizza with tropical fruit; across the world lies an island nation where coconut is king. Whether it's been chopped up or shaved fine, coconut flesh is far and away the most popular pizza accessory in Costa Rica. The only other topping that comes close is shrimp, which you'll often see paired with the aforementioned fruit. Strange as it sounds, denizens of the island nation swear by it.
India
Have you ever eaten naan bread smothered in spiced meat and paneer? If so, you've had a surprisingly authentic Indian pizza experience. Meat-wise, minced mutton and tandoori chicken are the most common additions. Throw on some hunks of paneer, and plenty of pickled ginger, and you've got the full package. If you're vegetarian, though, fear not; tofu is a remarkably popular topping, too.
France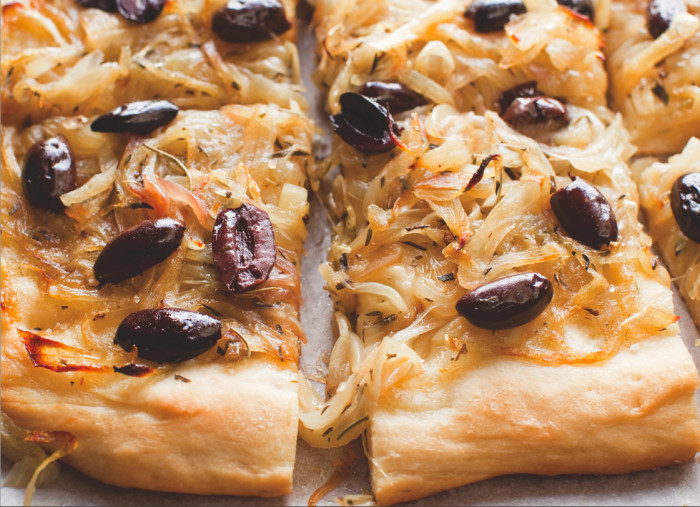 France has two answers to the Italian classic. First off, there's pissaladière – a staple of Nice cuisine. It consists of thick flatbread, topped with anchovies, black olives, and onions so caramelized they're practically a purée. If that's not your speed, then tarte flambée just might be. Hailing from the Alsace region, the dish involves coating a thin dough with bacon, onions, and crème fraîche. And yes, it's as deliciously decadent as it sounds.